The Colmcille Trail is a 7km walk which begins in Milford and runs along the shore of Lough Colmcille.
St Colmcille is said to have spent a lot of time in his youth on the shore of the lake in quiet reflection and prayer, which accounts for the lake and trail being named after this 6th century saint. There are a number of historical and heritage spots on the trail, particularly along the 2.5km section from Garrygort to Ballygay, including the site of a 17th Century graveyard and church, the site of standing stones, a crannog and the site of an 18th Century Covenanter meeting house and school.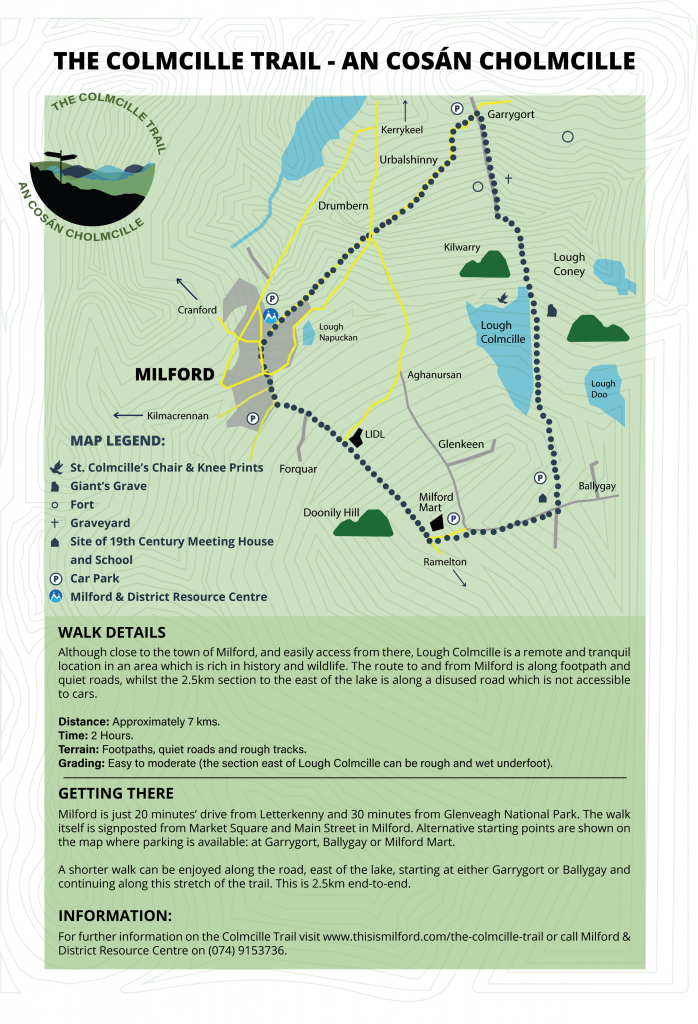 2021 marks the 1500th anniversary of St. Colmcille's birth. Celebrations and commemorations will take place across Donegal, Derry and Scotland, as well as further afield. Milford & District Resource Centre hope to mark the anniversary by improving the Colmcille Trail in Milford and are seeking funding to do just that.
A crowdfunding campaign was held in January 2021 which raised over €6,000 to put towards the cost of the improvements to the drainage and surface of the walkway. We hope to also raise money through grant applications for signage which will explain the connections the area has with St. Colmcille and to tell the story of other heritage areas on the Colmcille Trail.