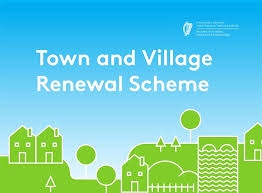 Milford to Receive €22,000 under Town and Village Renewal Scheme
Milford is to be one of five towns in Donegal which will receive funding under the 2020 Covid-19 Accelerated Measure of the Town and Village Renewal Scheme. The grant of €22,000 is to be used to develop existing, under-utilised space in Milford & District Resource Centre, to provide additional space for community education and remote working.
Declan Meehan, manager of Milford & District Resource Centre, welcomed the news. "We are delighted to receive word that our application for this funding has been successful. It will ensure better use for the community of the existing resource centre, particularly for remote working in the context of Covid-19. We will continue to pursue funding for the town and surrounding area as and when it becomes available for a range of initiatives and projects."
Milford has never received funding under the Town and Village Renewal Scheme until now. Meehan said "It's great to see money coming into the town from the Department of Rural and Community Development, and that is a direct result of our productive working relationship with the Community Development Office in Donegal County Council. We hope to continue working on this relationship to deliver more for Milford and the surrounding area. This money is a good start, however Milford needs a lot more investment from both Donegal County Council and the government if we are to make the improvements needed in the town to realise its full potential. We in MDRC intend to work hard, particularly with the County Council, to ensure that happens."
Ballybofey and Stranorlar, Bundoran, Gaoth Dobhair and Carrigans were the other successful towns in Donegal in this year's additional round of funding for Town and Village Renewal, which was launched by the department to respond to changing needs in communities as a result of Covid-19.
"This is a very welcome investment in our resource centre in Milford" Meehan said. "This money will ensure greater community use of the building for a variety of purposes including more educational opportunities, as well as an increase in hotdesk spaces available for those working remotely. Though this money comes as a response to Covid-19, it ensures greater utility of the resource centre for years to come."